Slim Fitting Y back cut that is perfect for the Gym or anywhere else you wear active ware, active ware.
Pink logo on the front and no print on the back.
Recommendation: Order a size higher than what you're used too (possibly two if you have a huge rack).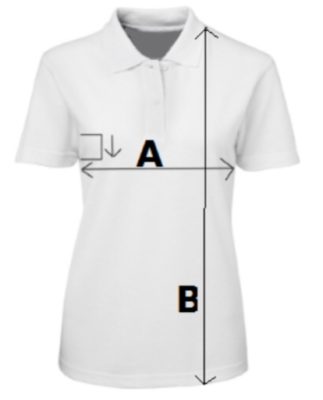 Sizing is for half chest measurement
Lay a similar garment that fits well, out flat on a table.
Measure 2.5cm's from the armpit (where the bottom of the sleeve meets the body).
Measure across the chest from seem to seem to obtain the Half Chest measurement.
Note: some garments may stretch more and influence the result.
A = Half Cheats measurement
B = Shoulder Point measurement (SP Length)
| | Size 8 | Size 10 | Size 12 | Size 14 | Size 16 |
| --- | --- | --- | --- | --- | --- |
| Bust | 35 cm | 37 cm | 39 cm | 41 cm | 43 cm |
| SP Length | 57 cm | 59 cm | 61 cm | 63 cm | 65 cm |